Media Coverage
Japan-China Third Country Cooperation Technical Seminar Held in Thailand
On March 6, 2019, NEDO and the Chinese Academy of Sciences (CAS) held a technical seminar in Bangkok, Thailand, targeted at Japanese, Chinese, and Thai businesses. The goal of the seminar was to disseminate in Thailand the results realized under a recent NEDO demonstration project on energy-efficient buildings carried out in Shanghai.
The impetus for this technical seminar was the First Japan-China Forum on Third Country Business Cooperation held in Beijing during October 2018, which was organized in line with the high expectations expressed at recent Japan-China summit meetings to make best use of each country's respective strengths and undertake bilateral cooperation that benefits third countries. In light of these developments, NEDO and CAS collaborated on a plan to hold a seminar in Thailand.
The NEDO project began in 2017 at the CAS Shanghai Advanced Research Institute's newly completed Stem Cell and Regenerative Medicine Research Facility. Under the project, Japanese energy-efficient technologies introduced during the facility's design phase realized energy savings of 46 percent compared to previously deployed systems.
Participants in the seminar included Professor Wei Wei, Vice President of the CAS Shanghai Advanced Research Institute, Dr. Supachai Sampao of the thai Ministry of Energy, the Chief Representatives of NEDO's overseas offices in Bangkok and Beijing, as well as many industry representatives.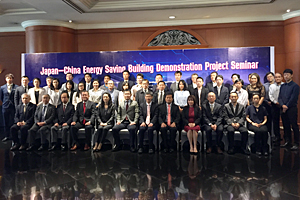 Seminar participants
Source: https://www.nedo.go.jp/english/news/whatsnew_00131.html