Exchange & Visit
China-EU Smart Grid Symposium Aims High for Cooperation
The Smart Grid Research and Innovation Symposium jointly organized by Chinese Academy of Sciences (CAS) and the European Commission Joint Research Center (JRC) was successfully held in Ispra, Italy from May 30-31, 2017. Professor Huang Weiguang, Vice President of Shanghai Advanced Research Institute (SARI), and Marcelo MASERA, Head of Unit in Energy sector at JRC served as Co-Chairs of the Symposium, which was co-organized by SARI and the Institute of Energy Internet Innovation (IEII) of Tsinghua University. Participants from the research, education and industry in China and Europe, including Politecnico di Torino, RWTH Aachen University, Enel SpA, Shenzhen Institutes of Advanced Technology and Energy Today etc. joined the event.
Professor MASERA kicked off the meeting with a presentation on Digital Energy, which was well responded by Professor Gao Feng, Deputy Director of IEII with introductions of the Energy Internet. The City Intelligent Energy Network Demonstration project brought up a solution for the future smart energy city in China. Topics including techno-economic assessment from pilots to deployment, cyber security, and demand response and end customer integration were covered and well discussed.
During the round table session, the attendees conducted in-depth discussions on the forward actions for the China-EU collaboration on smart grids, and reached consensus on cooperation models. The symposium was a great success with fruitful results and promising cooperation initiatives, which was highlighted by the CAS-JRC Framework signing ceremony. On June 2, witnessed by the Chinese Premier Li Keqiang, European Council President Donald Tusk and European Commission President Jean-Claude Juncker, CAS President Bai Chunli and JRC Director-General Vladimir ?ucha signed a framework agreement, in which Smart Grid is listed as a major cooperation topic.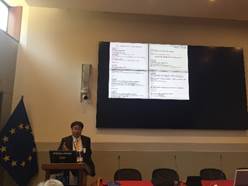 Address by Huang Weiguang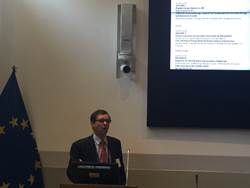 Address by Minister Counsellor of the Delegation of the EU Laurent Bochereau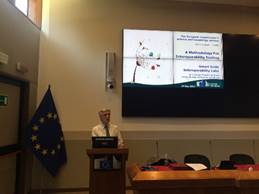 Address and Keynote by Marcelo MASERA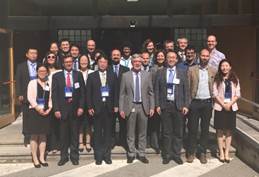 Group Photo