International Conference
ICCDU XV Held in Shanghai
The 15th International Conference on Carbon Dioxide Utilization(ICCDU XV)was held from July 18th to July 21st 2017 at conference hall of ShanghaiTech University. Around 400 scientists from more than 20 countries attended the annual gathering of ICCDU.
The conference is chaired by Prof. Sun Yuhan, Director of CAS Key Laboratory of Low-carbon Conversion Science & Engineering of SARI. Prof. Jiang Mianheng, President of ShanghaiTech University delivered a welcome speech. In his speech, Prof Jiang pointed out that ICCDU has become an important platform for researchers and industry leaders to generate cooperation in the field of carbon dioxide utilization. China is facing a huge energy demand and in urgent need of new technologies for energy conservation and emission reduction. It is now China's national strategy to combat climate change. As the economic and innovation center of China, Shanghai is engaged in building a comprehensive national center of global influence and Zhangjiang science and technology innovation center. With joint effort, he hoped this conference would help to promote cooperation in dealing with challenges of sustainable energy development.
Academician He Mingyuan, CCUS Research Program Manager of Total Dr. David Nevicato, ICCDU Founder and Honorary ISC Chair Prof. Michele Aresta and ICCDU ISC Chair Prof. Song Chunshan were invited to give plenary talks.
The conference consisted of 14 keynote speeches, a hundred oral reports and more than seventy posters. In addition, Best Poster Award and Outstanding Young Researcher Award were presented during the conference.
Considering the fast development of technologies concerning carbon dioxide emission reduction and some of which has gone out of labs to demonstration or implementation stage, the conference arranged two workshops of cutting-edge CCUS related Frontier Research and CCUS related Industrial Technologies to let scholars and representatives from fields such as chemical, energy and environment, new materials, global change and economic policies to share their ideas.
The 15th ICCDU is jointly hosted by Shanghai Advanced Research Institute, Chinese Academy of Sciences (SARI-CAS) and ShanghaiTech University. It is the second time that ICCDU comes to China after 2009 in Tianjin.
Welcome Speech by Prof. Jiang Mianheng (image by SARI)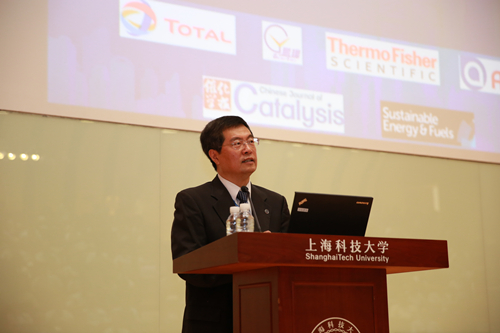 Chairman Prof. Sun Yuhan (image by SARI)

Keynote Speeches (image by SARI)

Q&A session (image by SARI)