International Conference
China-EU Green and Smart Energy Cooperation Symposium Held in Shanghai
China-EU Green and Smart Energy Cooperation Symposium was held from April 23-24 in CAS Shanghai branch. The Symposium was hosted by Chinese Academy of Sciences (CAS) and Joint Research Center (JRC) of European Commission, and organized by Shanghai Advanced Research Institute, Chinese Academy of Sciences (SARI-CAS).
Huang Weiguang, Vice President of SARI and Executive Chairman of the Symposium, first welcomed all the participants. He said this symposium aimed to implement the consensus reached last year to discuss the development of green energy and explore cooperation in the fields of distributed energy, energy storage and regional integration of energy market. It is hoped that followed by the "Belt and Road Initiative", this Symposium can help to expand the collaboration between CAS and JRC in terms of smart energy application and promote new pattern of cooperation in global green , to promote the new pattern of regional energy cooperation in the construction of global green zone energy.
Laurent Bocherau, Minister Counsellor of European Union, introduced China-EU Energy Science, Technology and Innovation cooperation outlook and hoped the two parties could enhance cooperation to set a good example for China-EU science and technology cooperation.
Marcelo Masera, Co-Chair of the Symposium and Head of Energy Security, Distribution, Markets Unit in the Energy, Transport and Climate Directorate of JRC, expressed his thanks for the arrangement, and expected in-depth discussion on the implementation of cooperation projects in this symposium.
Experts from JRC, SARI, Tsinghua University, Shanghai Jiao Tong University, Institute of Electrical Engineering of CAS, universities from Italy, Germany, France, etc. exchanged ideas on the topic of Integrated Multi Energy System, Latest Development of Energy Internet Standards in China, Cybersecurity in Smart Grids, Flexibility in distribution grids, etc. The Symposium set a solid foundation for future demonstration projects and strategic collaboration between CAS and JRC.
Group Photo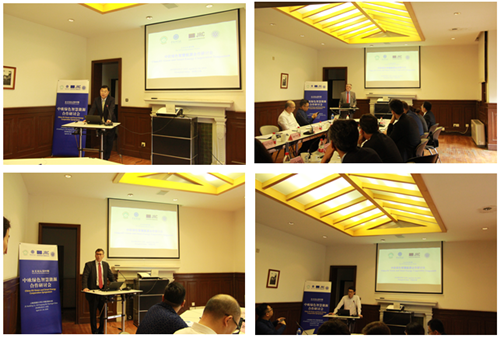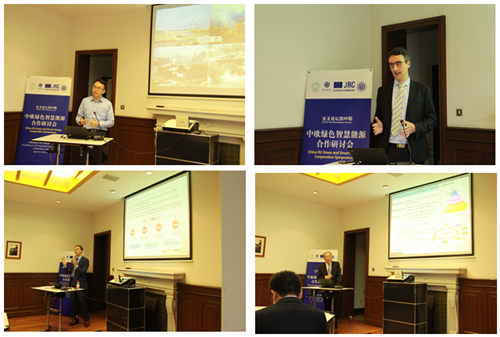 Keynote Speakers